Rainforest Farms is Juneau's first Cannabis store!  In spite of the many hurdles they had to overcome over the past 2 years to prepare for opening day, they did a great job.  All products are locally grown and approved by the state.  Check out their website at rainforestfarms.org  for their latest information.  You will also find up to date information on their Facebook page here.  Check out the local news coverage of the Grand Opening.     Juneau Empire
The shop is located downtown across from
Wells Fargo on 2nd St. between Franklin
and Seward.
The grand opening on November 25 was a big hit!  Dozens of customers were already lined up an hour before the store even opened.  The store sold out after only four hours of business!  They promise to restock within a week.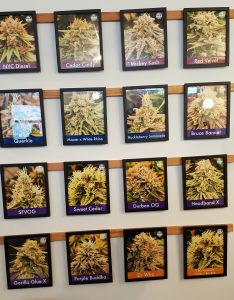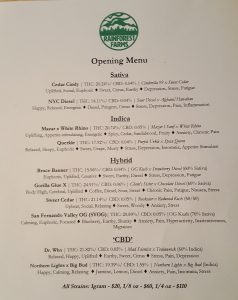 But the wait to get in was well worth it.  The selection was grand!  In four major cannabis/sativa categories they had many choices.  And for customers who are not sure, they had helpful menus set up giving the effect, taste description as well as what the strain is good for, like a fine wine menu.
The hurdles to overcome in setting up a store in remote Juneau isolated from the Alaska road system were costly.  This fact reflected in the product prices.  They were high.  But the store successfully delivered products and atmosphere that were high end and of excellent quality.
Mmmm!  Read on for individual product reviews……