The Mine Camp Ruins Trail is a vigorous route that will not fail to impress.  The trail, reached by turning off the Perseverance Trail near the end, is .3 miles long.  But it leads up a narrow and steep twisting, rocky track.  I wondered as I climbed how the inhabitants of the camp managed the daily climb, lugging equipment and supplies.  They had to be in phenomenal shape!
At the top of the climb, adventurers will see the remaining stone foundations and chimneys from the houses making up the camp.  Trees and grasses have since grown over and around what is left.  It was a beautiful experience of the history of early Juneau.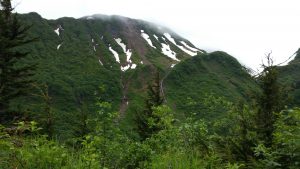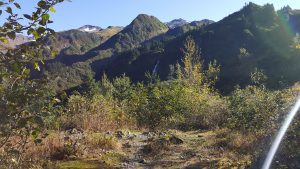 We found an old foundation at the top of the hill and stopped to picnic.  It was a perfect spot!  All around were amazing views of the surrounding mountains.  It was truly breathtaking, in every direction the view was majestic.  It was not a large mountain, but it was truly worth the diversion and the effort of the climb!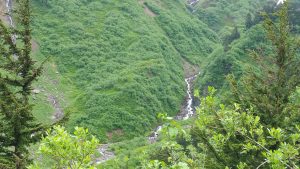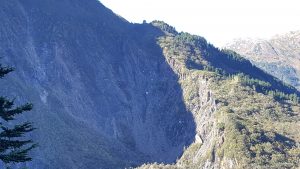 view of the glory hole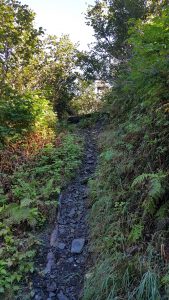 | | |
| --- | --- |
| Details | Mine Camp |
| Distance | .3 miles |
| Difficulty | difficult |
| Elevation | 401 feet |
| Time | 35 min |
This is a great isolated spot to have time to yourself to either take a break, eat some food, or take in the sights.  The ruins leave plenty of flat spots to sit.  My only con is that it is straight up and lots of gravel on the trail.
Mine Camp Ruins Trail