Nugget Falls Trail is an easy the trail to take to reach the base of Nugget Falls and is the closest you can get to the Mendenhall Glacier from the trails near the Visitor's Center.  This is a flat and well-maintained maintained trail.  The trail is very popular and will get over-crowded during the summer time tourist season.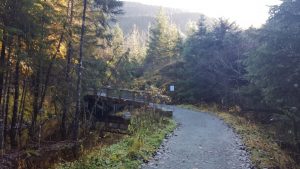 The Nugget Falls Trail begins on a well-packed pathway over a bridge and is well marked.
I was very fortunate to be visiting during the off season and so few people were on the trail.  If you prefer to enjoy the natural scenery without being bumped, go when it's not the summer tourist season.
| | |
| --- | --- |
| Details | Nugget Falls Trail |
| Distance | 2 miles |
| Difficulty | easy |
| Elevation | 0 feet |
| Time | 60 min |
The trail continues through many lovely views that are photo worthy, a hallmark of the Juneau experience.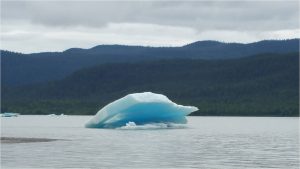 At various points along the trail you can branch off toward the lake for magnificent views of the icebergs.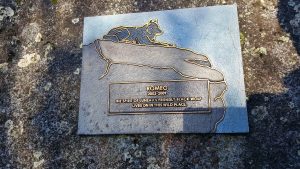 Nearing the end of the trail you will find the Romeo plaque.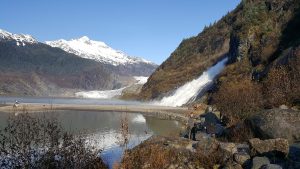 The trail ends at the dead end beach.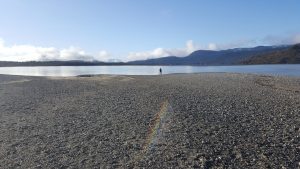 The beach offers a magnificent view of the roaring Nugget Falls.  The view of the glacier is also impressive.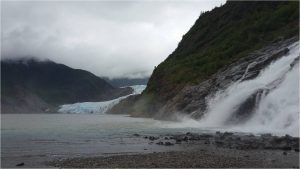 Nugget Falls Trail