I was walking up Franklin street with Grumpy near Rainforest Farms and smelled the heavenly aroma of baking bread coming from Wild Oven Bakehouse.  Near the open windows through which these wonderful smells wafted, was a young man who noticed that I was distracted by the smells.  He invited us inside to check out the bakery.  Down a few steps we entered a fairly small kitchen with ovens and a space to prepare the sourdough.  He showed us a batch rising and explained how a portion of each batch is saved to serve as the culture for the next batch of dough.  This was no shortcut sourdough using any processed yeast or manufactured sourdough flavoring!  This was authentic organic sourdough made the old fashioned way using an original wild and live culture leavening!  (Check out their website here.)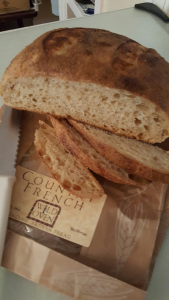 I was delighted to find out they delivered several times a week to the store just up the street, Rainbow Foods. The very next day I went multiple times looking for the delivery and finally scored a fresh loaf of Country French.  We had it for lunch along with cold cuts and cheese.  Just before the first bite I was greeted with the warm smell of home.  The crunchy crust paired perfectly with the delicate inside which just melted in the mouth. The sourdough taste was not overpowering, just enough to give the wheat a little kick.
I had to get more!  I tried another, even better loaf:  Cranberry Walnut.  The cranberries offered a sweetness that was not so aggressive you couldn't eat it with cold cuts and cheese.  Along with the walnuts it offered a textured thrill that has me yearning for more.  This is hands-down their best loaf!
The Bakehouse delivers to other locations around Juneau, including the Foodland and Superbear.  They change up their offerings regularly and include seasonal specials as well.  They maintain a Facebook page where you can stay posted on their schedule as well as their current offerings.   If you happen to be in town, you will not regret indulging in a loaf, or two, or three.
Wild Oven Bakehouse