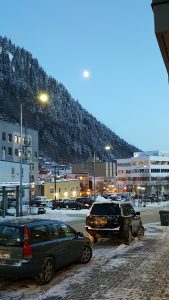 JuneauReview was set up to serve as a resource for locals and visitors a way to check out a local establishments without having to suffer through a surprise negative experience.  We wanted to provide insight into some of our local treasures a visitor might otherwise overlook when coordinating their cruise stops.  We also wanted to allow locals and visitors to review their Juneau experience, whether at a restaurant, bar, shop, excursion or a hike.
We wanted to create a review site that strictly deals with Juneau.  In this way we can concentrate on one thing, helping you enjoy Juneau in the best way possible.
We are proud of our very unique city and want to show what makes this city awesome!
Please enjoy and contribute!
Site stats:
[sbs_blog_stats]
All time views:
Costco Wholesale Costco Wholesale is member only warehouse shopping.  Costco probably has one of the best meat departments in Juneau.  A great place to stock up on goods wi... |

3.2k views

|

0 comments

| |

posted on July 3, 2017

| under Shops | https://juneaureview.com/costco-wholesale/ Fred Meyer Fred Meyer is Juneau's largest shopping center.  Fred has some of the best prices and largest selections for Juneau.  Most families use Fred as their prima... |

2k views

|

0 comments

| |

posted on July 3, 2017

| under Shops | https://juneaureview.com/fred-meyer/ Imperial Saloon The Imperial Saloon, officially known as The Imperial Billiards and Bar,  is the oldest bar in Juneau, Alaska, established in 1891.  This is an absolute mu... |

1.8k views

|

4 comments

| |

posted on November 11, 2016

| under Drinks | https://juneaureview.com/imperial-saloon/ Juneau Seawalk The Juneau Seawalk is a pleasant waterfront  walkway along the Gastineau Channel in downtown Juneau.  Visitors can access the Juneau Seawalk from the South... |

1.7k views

|

0 comments

| |

posted on September 24, 2017

| under Trails | https://juneaureview.com/juneau-seawalk/ EverGreen Taxi Capital Cab Taku Taxi The EverGreen Taxi Capital Cab Taku Taxi is Juneau's go to taxi service.  Call them at 586-2121 and get three services.  This will allow for rapid service... |

1.5k views

|

2 comments

| |

posted on November 14, 2017

| under Services | https://juneaureview.com/evergreen-taxi-capital-cab-taku-taxi/ Juneau International Airport The Juneau International Airport is one of only two ways to enter and exit Juneau.  It is a relatively small airport with one terminal.  It is also one of... |

1.3k views

|

0 comments

| |

posted on November 20, 2017

| under Services | https://juneaureview.com/juneau-international-airport/ Photo Point Trail Photo Point Trail is a very easy and short trail that can easily be overlooked.  But a quick stop is well worth an amazing I suggest a quick stop to take i... |

1.3k views

|

0 comments

| |

posted on October 29, 2017

| under Trails | https://juneaureview.com/photo-point-trail/ Alaska Shirt Company The Alaska Shirt Company is the ideal place to pick up any number of inexpensive souvenirs of Alaska.  You can find the store conveniently located near the... |

1.2k views

|

0 comments

| |

posted on August 24, 2017

| under Shops | https://juneaureview.com/alaska-shirt-company/