The East Glacier Loop Trail with its beautiful woodland scenery and amazing views of the Mendenhall Glacier, is my favorite.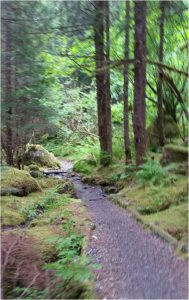 The East Glacier Trail forks off The Trail of Time for a moderate 3.5 mile loop.  We walked this trail a couple of
times at different times of the year, both times starting at the trail head closest to the visitor center and going clockwise on the loop ending at Steep Creek.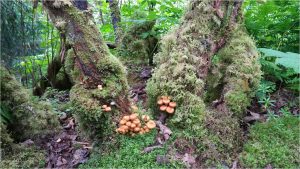 The trail starts with a slow gradual climb through idyllic woodland along root-laced, boulder studded trails.  It runs through scenery that pops right out of the storybooks.  I half expected to catch a gnome peering from behind a mossy toadstool covered tree trunk!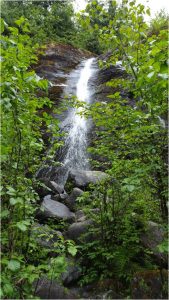 The trail will treat hikers to numerous streams and waterfalls.  Check out AJ Falls.  Hikers can even take a break overlooking a lovely little mirror-still mountain lake.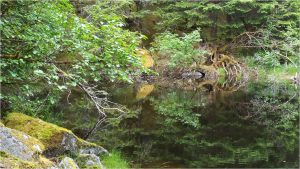 After A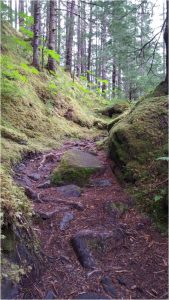 J Falls, and the lake, the trail will being to switchback up the mountain over boulders and tree roots.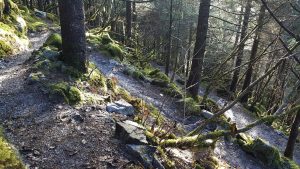 As the trail reaches higher elevations, the trees will break for a stunning view of the Mendenhall Glacier and Nugget Falls.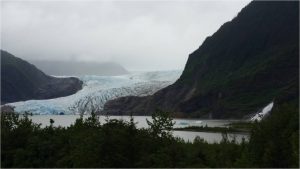 The top of the trail opens to another lovely view of the Glacier Lake over Nugget Falls below.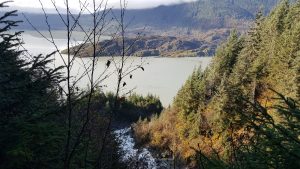 | | |
| --- | --- |
| Details | East Glacier Loop Trail |
| Distance | 3 miles |
| Difficulty | Moderate |
| Elevation | 650 feet |
| Time | 2 hours |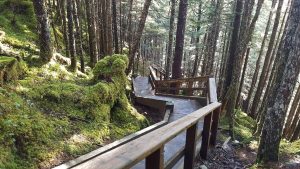 Continuing on the loop past the OverLook is the start of the stairs going down.  The stairs are my favorite part of the entire trail.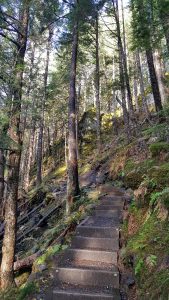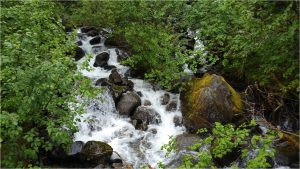 The trail eventually ends at the Trail of Time at Steep Creek.
East Glacier Loop Trail