Trail of Time is a great trail to take to get a real understanding of the retreat of the glacier.  Along the trail are markers of where the glacier was and the year.  It is like walking into the past.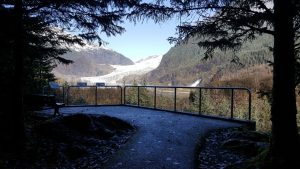 After leaving the The Mendenhall Glacier Visitor Center and before the end of the pavement, make sure to check out the view of the glacier at the vista point.
| | |
| --- | --- |
| Details | Trail of Time |
| Distance | .5 miles |
| Difficulty | easy |
| Elevation | 0 feet |
| Time | 30 min |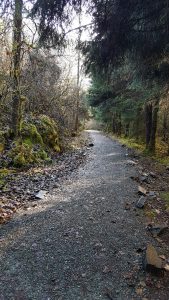 The Trail of Time continues past the vista on a flat well maintained maintained trail.  Be sure to keep an eye out for the time markers as you travel along the trail towards Steep Creek.  The markers are camouflage within the mossy rocks, so keep looking.
From the Trail of Time Trail you can catch the East Glacier Loop Trail.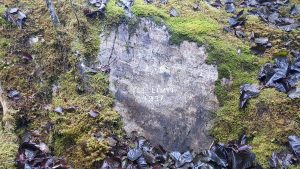 Here you can see an example of the distance the glacier has traveled.  From the camera to the couple walking on the path is how far the glacier receeded in one year. (1936-1937)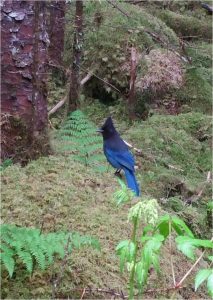 Even the wildlife is extraordinary.  I was amazed by the colorful brilliance of the Stellars Jay.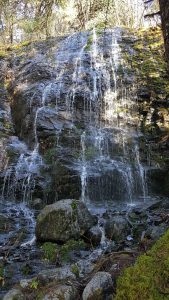 There are plenty of views to take in along this trail.  The only downside, the trail is near the visitor center and it can get full of crowds during summer time.  This a fascinating trail for educational purposes and no child should miss out on the educational adventure.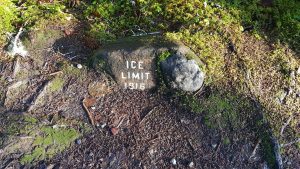 You will encounter the 1916 marker out by the hut near Steep Creek.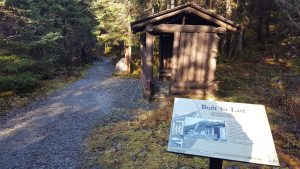 Trail of Time