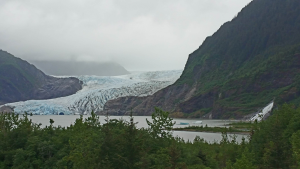 Juneau, the remote state capital of Alaska, was originally a native Tlingit settlement called  Dzanti K'iheeni meaning "Base of the Flounders' River."  In 1880 when prospectors Joe Juneau and Richard Harris struck gold the settlement became well known in the Alaskan gold rush and soon the name Juneau stuck.  The town has a local population of about 32,400 people.  But every May through October, the city is visited by up to 5 cruise ships bringing an additional 6000, or so, tourists every day.
Tourists come for good reason!  It's an extraordinary vacation destination for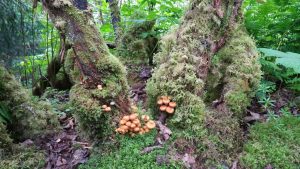 those who love the outdoors.  There is the beautiful Mendenhall Glacier with a glacier lake dotted with blue-green icebergs.  There in Glacier Park visitors can explore miles of trails overlooking the lake, the glacier, waterfalls and wandering through idyllic forest scenes as if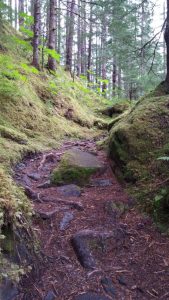 popping right out of the story books.
Around Juneau there are miles of amazing hiking trails up root-laced and rock-strewn mountains.  From downtown Juneau, hikers can take on the 10 mile Perseverance Trail and experience the history of the early miners.  There are even remnants of an old mining camp above the Silverbow Basin.  What once was a thriving community with a hospital, machine shop, blacksmith, mess, homes, and post office is now a hilltop treasure of foundations and chimneys hidden in the brush.  It makes for a wonderful picnicking spot.  Another rigorous hike is the Mr. Juneau trail, but most travelers will take on the Mt. Roberts trail.  This trail does not disappoint.  After a strenuous trip up the zigzagging trail, hikers are rewarded with native carvings, amazing views of the valley and channel as well as a restaurant and bar.
Juneau is definitely a city that empowers the local businesses.  National chain fast food and shops are scarce.  Enjoy coffee and a pastry at one of the Heritage Coffee locations with coffee roasted locally, or have a chai tea and scone at the local hole in the wall (literally,) Pie in the Sky.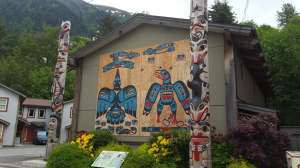 Enjoy fresh sourdough bread from Rainbow Foods that is baked the old fashioned way from live strains of sourdough.  Have an Alaskan beer, also brewed locally, or go to the brewery and sample several.   Visitors can even enjoy a dose of native culture and artwork in native owned shops as well as on murals and sculptures throughout the town.
Most tourists rely on chartered tours from the ships to navigate Juneau.  This website, with content created by a local and guest writers who have experienced Juneau first hand, is intended to guide visitors toward a more pleasurable and authentic Juneau experience.  Indeed, one drawback for Juneau is indeed its popularity as a tourist destination and hence the crowds at the more popular sites.  This guide will point you toward experiencing some of the more out of the way places you might have missed if only relying on the official tours.  Some say you can only really experience a place by living there.  Well, we'll help you get that experience as close as possible.
Oh, and watch out for the bears!  Then again, you might just see one by the side of the road getting its fill of giant dandelions.