Watch out, Alaskan, Barnaby Brewing Company is Juneau's newest brewery.   This startup brewery is located downtown at 206 N Franklin Street.  You can find the pub in the basement of the building but if you're not paying attention it can easily be missed.  Enter and you will find a small establishment with very limited floor space.   Fortunately when I was there it was not too busy.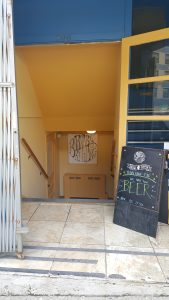 Vist BBC website:  https://www.barnabybrew.com/
Here was the tap menu when I visited BBC.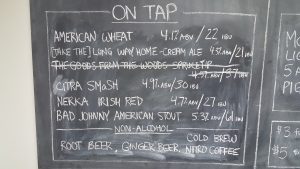 I ordered a sampler which consisted of:  (right to left)  Long Way Home, Citra Smash, Irish Red, and American Stout.  The sampler is just shy of $13.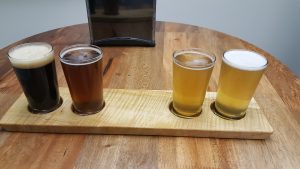 Long Way Home is very light in taste and easily goes down.   It is light and tasty.   It is a perfect drink after a nice walk on Perseverance Trail.   It's a great light beer.
Citra Smash has a nice citrus smell and, like Long Way Home, it is light tasty.
Irish Red is a step up in color and flavor.  It definitely has more of a hearty hoppy taste.  This is probably my favorite flavor.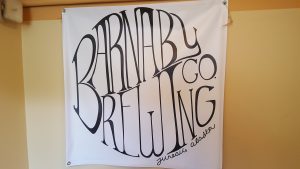 American Stout is very nice.   It has a nice coffee flavor but is not too overpowering.  I would select this after the Irish Red.
Over all, the beers were very nice and favorable.  Here you can get a good drinking beer from light to stout.  Barnaby Brewing is definitely a spot to stop by for a quick beer.
Good luck to BBC!
Barnaby Brewing Company