The Mt. Juneau Trading Post is a treasure trove of native and local gifts and artworks.  The shop consists of two floors filled with jewelry native items, such as drums, shoes, t-shirts, hats, sculptures and much, much more.  It is located at 151 S. Franklin St.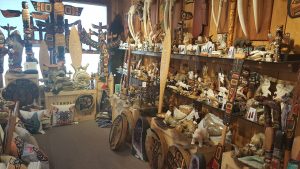 Downstairs, shoppers will find various gem specimens, jade, gold nuggets and more.  Drums featuring the native form line art hang all along the walls in various sizes, shoes, jewelry and sculptures, including totems and masks.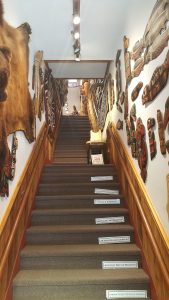 Upstairs, if lucky, shoppers can observe native artists at work.  There are more sculptures, including larger, more elaborate and pricey pieces.  There is also a room featuring t-shirts and hats.
In various visits, I found the perfect jade earrings and necklace, a hematite necklace, gold nugget jewelry as well as t-shirts featuring local art.  There is even a nice selection of old Japanese glass fishing net floats.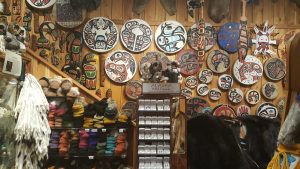 Anyone looking for a souvenir or a gift
representative of the region will not fail to find one at The Mr. Juneau Trading Post.