Red Mill Trail splits off Perseverance Trail after Ebner Falls and past the bridge.  The trail loops south for 1.6 miles up into the hills under Glory Hole Trail and meets Perseverance Trail again near the waterfall.
You start off going up off Perseverance.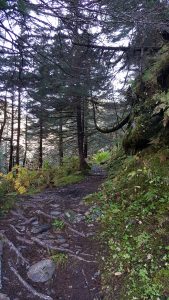 The Red Mill is a moderate track offering lovely vistas reminiscent of memories of the Alps, especially with flowering wildflowers in the summer.  At one break spot hikers can look across the valley and see the distant Perseverance Trail.  A sign offers a history of the area.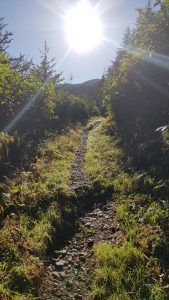 | | |
| --- | --- |
| Details | Red Mill |
| Distance | 1.6 miles |
| Difficulty | easy |
| Elevation | 301 feet |
| Time | 45 min |
Red Mill is one of my favorite trails. Because it is off the normal perseverance trail and does not get that crowded like perseverance.  Most of the trail is in the shade going in and out of the meadows above the trail below.  If I were to find a con it would be that the trail is wet and has snow because it is always in the shade.
RM parallels Perseverance Trail below and on the other side of the creek.  Since most people take Perseverance that frees up Red Mill and gives you more seclusion.  Give it a try!

Red Mill Trail