If you are looking for a fabulous view of Juneau and the Gastineau Channel, and are not too terrified of heights, you should take the tram up Mt. Roberts.  Get to a place near a window, have your camera at the ready, and if you're lucky, enjoy the stories told by your tram conductor.  For $33 adults can purchase an all-day tram ticket.  You can catch the tram at the cruise ship dock and rise up 1800 ft. to the Mountain House. See the website here for more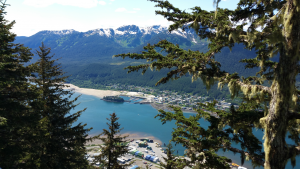 information.
Now, let's examine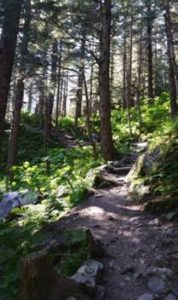 another way to ride the tram if you are energetic enough and willing to take on the awesome adventure of hiking up Mt. Roberts.  If you were to hike up the mountain, then relax at the Timberline Grill and Bar at the top of the mountain, save your receipt showing $19 in expenses and
you will have your ticket to travel down the mountain and enjoy the view from the tramway.
This is what Grumpy and I did.  I followed Mr. Longlegs up an amazing zig-zagging trail laced with roots and studded with rocks and boulders.  We traveled through idyllic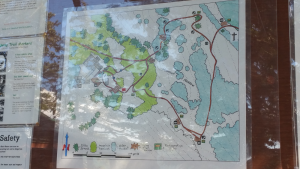 scenes under the tall spruce trees and stopped to admire amazing views, as well as for me to catch up and catch my breath.  It was worth the trip.  We then explored the trails up around the top and rested at the Timberline Grill and Bar.  See the link for our review on the restaurant.
We were then ready for the trip down.  Now even though I have jumped out of perfectly good airplanes, I am not keen on heights.  I am especially not keen on cable cars, after living in Europe with stories of aircraft flying through mountains, cutting cables and crowded tram cars falling thousands of feet to certain death.  But this tram is perfectly safe and even ADA compliant.  It was stable in spite of a windy day.  Plus Grumpy was there. 🙂 The view was amazing and the tram conductor played his drum and  serenaded us with stories of the mountain.  It was a truly awesome experience!