The Taqueria
Yet another pleasant Juneau surprise is the Taqueria, offering an authentic plate of Mexico.  From its bright dia de los muertos décor, to the cook, Jefe, jamming to Latin music, to the food, this place truly delivers a taste of Mexico.  It also reminded me of my home in Arizona.
I ordered four tacos and a beer for $18.50.
Carnitas $4, Carne Asada$4, Pastor $4, and Sockeye Salmon Chorizo $5.  You also receive a large portion of chips and salsa complimentary.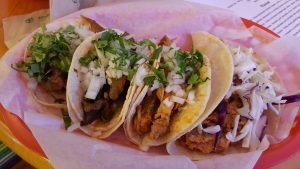 The Carnitas offered great taste and tenderness served with classic soft tortilla. Carne Asada was also very good tasting and very tender.   Pastor had a sweet taste but unfortunately it was very dry.   It was like eating pineapple pork jerky.  The Sockeye Salmon Chorizo was a little wet and sloppy, maybe because it was my last taco.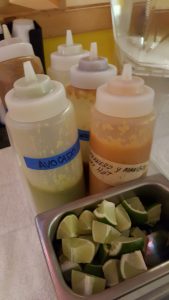 They also have a nice selection of salsa to pair with your choice of food.  Choices include red hot sauce, green hot sauce, guacamole, and my favorite, habanero mango.  It tasted great and had the right amount of heat.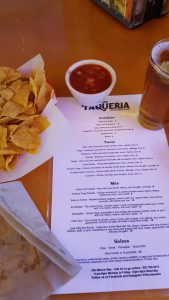 The staff was great!  They were very attentive and extremely helpful.  
I would definitely recommend the Taqueria to everyone.  I would say these are the best tacos in Juneau.
On a side note, they have very clean restrooms, which is always a sign of a good establishment.