One aspect of Juneau I love is the native art form known as formline.  You see this art form on murals and totem poles everywhere.  Mostly you will see the traditional interpretations of raven, eagle, and whale right out of local folklore.  If you enjoy this too, check out Trickster Company.
However, the store Trickster Company, takes this Northwestern native art into fresh modern day perspectives.  The company started with designing skateboards for friends.  (See their website here.)  You can find traditional themes as well as formline versions of pop culture such as Star Wars.
A drawback, however, is the store very much aligned its schedule to the arrival of the cruise ships.  So if you happen to be out early because you are visiting from the east coast and still stuck in Eastern Time Zone, you will have to be patient!  Items are also pricier than the bigger souvenir shops, but the products are more unique.
If you are looking for a gift for teenagers, this is the place to go.  You can choose from skateboards, balls, t-shirts, sweaters, ball caps and more.  I purchased a black on black ball cap featuring the sea monster Gunakadeit.  Oh, and if you ask, store personnel will even humor you with the story.  (See the story here.)
By the way, my boy loved his ball cap!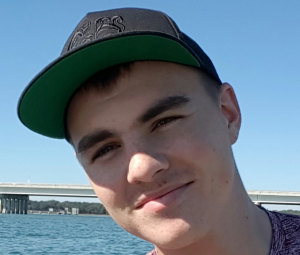 Trickster Company